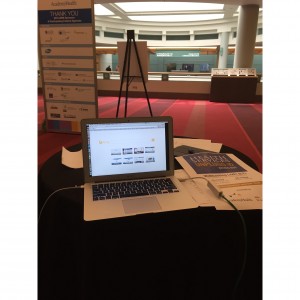 "HSU at the ARM 2015 – 4" (Pod 9) features awesome attendees to AcademyHealth's Annual Research Meeting (ARM) in Minneapolis, MN.
These experts and soon to be experts (i.e., students) are awesome because with no advanced warning (I mean, notice.), they agreed to be part of a LIVE webcast and chat about their background, research and policy interests, ARM experience, advice to students and more.
Listen in and meet (links and titles updated on 7-11-15):
Ernie Moy, MD, MPH
Medical Officer, Center for Quality Improvement and Patient Safety
Agency for Healthcare Research and Quality (AHRQ)
Eugene Day, ScD, MS
Principal Health Systems Specialist
The Children's Hospital of Philadelphia
**********
NOTES:
Sound quality reflects the atmosphere in the hallways at the convention center. There's nothing like an overhead vent to motivate one (namely, me) to research sound dampeners for next year.
Health Services Unplugged is supported by Kaiser Permanente.
[ Image credit – AcademyHealth / Dr. Felicia E. Mebane ]